Boilers
for
burning
whole
bales
of
straw
STEP-KC
100
-
190
kW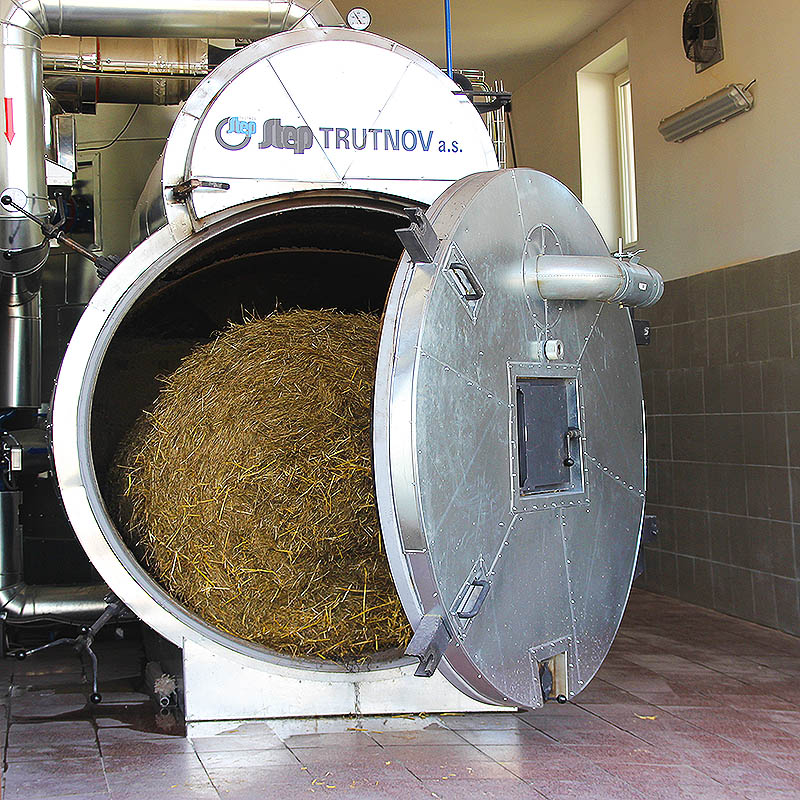 Type and capacity range: STEP-KC 100 - 190 kW

Use
This equipment for biomass combustion (burning whole round/rectangular bales of straw) is designed to heat small buildings (industrial facilities, municipal heating plants, agricultural buildings, operational premises, etc.). The furnace can also be adapted for burning pieces of wood.

Type of boiler
The boilers are available as warm-water type boilers and operate at maximum working pressure 2.0 bar, while the maximum working temperature is 100°C.


Boiler description
The STEP-KC boiler consists of a water-cooled furnace with a cylindrical combustion chamber and a vertical flue gas exchanger. In the front part of the boiler are circular gates that permit bales of straw to be manually stoked easily into the combustion chamber. The flue gas outlet is located at the top of the rear part. The boilers come with mandatory fittings, insulation and metal sheeting.

Fuel
The boilers can burn straw as well as wood. Specification of straw: round/rectangular bales of straw (rapeseed straw, wheat straw, hemp straw, Uteusha energy crop), max. humidity 16%, low to medium compression. Specification of wood: bulk wood with a moisture content of up to 20%. Burning sawdust and shavings is not recommended, instead automatic boilers should be used for such materials.


Operation and control
STEP-KC 100 kW – Combustion in the boiler is controlled by a draught controller (direct-acting thermostatic valve), which controls the valves supplying combustion air into the furnace. Inlet openings with these valves supplying combustion air are located at the top and bottom of the front door. The boiler comes with a cooling device in case of overheating.
STEP-KC 190 kW – Combustion in the boiler is based on forced exhaust and/or combustion air supply. The boiler is equipped with an operating temperature controller, which, once the preset values of water temperature (90 °C) have been reached, closes the inlet openings for the combustion air supply. The boiler comes with a cooling device in case of overheating.

Clearing ash and cleaning
Ash is collected from the furnace manually via the open front door using an ash scraper and loaded into a container and put aside. When burning straw, ash removal from the furnace is recommended every 7-10 days; cleaning the heating surfaces of the heat exchanger should be done every 10-20 days.

Instructions for installation
The boiler comes with instructions for installation, operation and maintenance, describing everything in detail. The manufacturer recommends installing a storage reservoir as part of the heating system (see Recommended boiler mounting diagram).
Boiler
parameters
BOILERS FOR BURNING BALES OF STRAW, OUTPUT 100-190 kW
STEP-KC BOILER PARAMETERS; WARM-WATER OPTION
Boiler output
kW
100
190
Standard bale parameters
Number
-
1
1
Diameter
m
0,80
1,50
Depth
m
1,20
1,20
Weight
kg
64
225
Heat supplied
kWh
151
530
Average output supplied; typical heating method
Stoking once per day
kW
19
51
Stoking twice per day
kW
35
98
Maximum
kW
75
190
Boiler lenght
m
2,40
3,1
Boiler width
m
1,5
2,2
Boiler height
m
1,8
2,7
Combustion chamber diameter
m
1,15
1,8
Combustion chamber lenght
m
1,40
1,8
Minimum cross-section of the chimney
m
0,30
0,35
Minimum effective lenght of the chimney
m
6
8
Dimensions; heating water input/output
2"/2"
3"/3"
Boiler weight
kg
1240
3100
Boiler water volume
l
1115
1400
Minimum volume of the storage reservoir
l
3500
9000
*at nominal capacity, wood chip material humidity 20 %, and clean heat-delivery surfaces.
Recommended
boiler
mounting
diagram: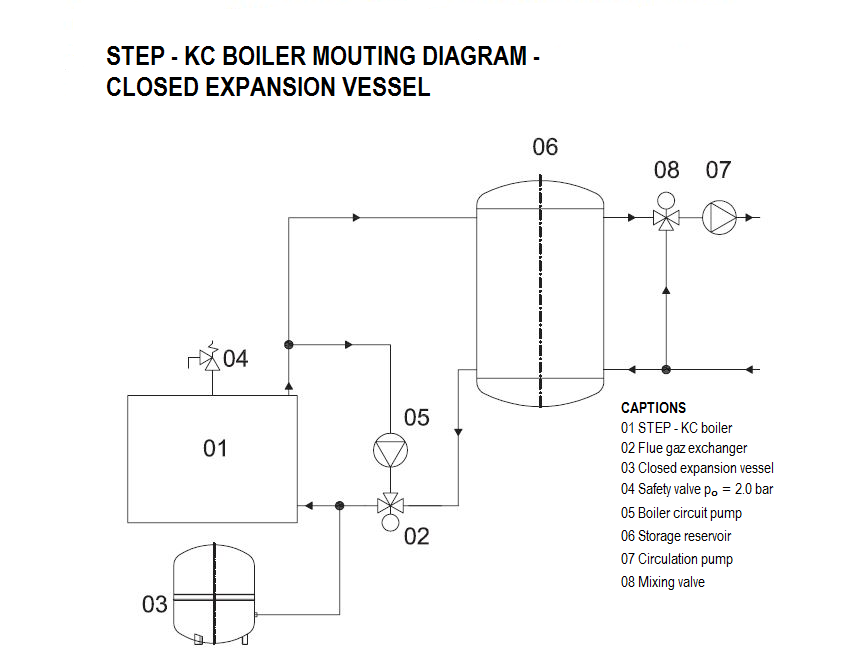 ---