The softening filters are used in the field of chemical water treatment and are designed to soften water by a Na+ cation exchanger or for neutral decarbonisation.
The water being treated flows through the filter either from top to down or from bottom to top. For softening using the cation exchanger, the bottom-up flow is recommended. The recovery shall be always made in top-down direction. The filter is a vertical vessel welded from steel sheet metal and vaulted bottoms. It is placed on four tube legs. Inside the vessel, there is an upper and lower jet bottom.

The vessel is equipped with fittings; inlet, outlet, connecting and delivery pipes, and with pressure gauges. The outer surface of the filter is primer-coated. The softening filters are designated by ZF and by value of filter diameter (D) in mm.

For basic design, connecting and construction dimensions, see the table. Maximum working overpressure is 0.6 MPa. Maximum working temperature depends on a filler applied – max. 90 °C. For washing, clean pressure air must be supplied, with overpressure of 60 – 100 kPa. A bottom layer of washed silicate sand, grading 1.8 to 4 mm, is recommended in filters. The inert filler layer should be 100 mm for filter size 600 to 1,000 mm, 200 mm for filter sizes 1,400 to 3,000 mm.
Technical
parameters
FILTERS
Type
Filter
F 600
F 800
F 1000
F 1400
F 2000
Volume
[l]
600
1000
2000
4200
9000
D
[mm]
600
800
1000
1400
2000
A
[mm]
2750
2800
3500
3850
4200
a1
[mm]
2000
2000
2500
2500
2500
a2
[mm]
350
400
450
650
800
a3
[mm]
500
500
600
600
750
a4
[mm]
100
100
150
150
350
a5
[mm]
200
200
350
350
350
b1
[mm]
200
200
400
600
800
b2
[mm]
250
300
400
450
550
DN 1
[mm]
50
65
80
125
150
DN 2
[mm]
25
25
40
50
65
DN 3
[mm]
200
200
-
-
-
DN 4
[mm]
-
-
450
450
450
DN 5
[mm]
15
15
20
25
25
DN 6
[mm]
15
15
15
15
15
Weight
[kg]
500
800
1150
2100
3800
See also our other standard models of filters: Water softening cartridge filter PZF 200 | Water demineralization cartridge filter PDF 200
Drawing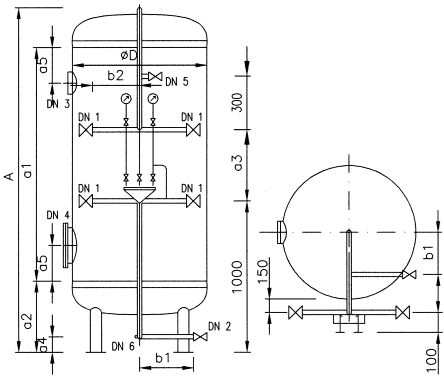 Building
dimensions
for
footings

---